Our range of Brass Compatible Products is designed to seamlessly integrate with the Brass App, empowering you to achieve peak performance and precision in your shooting skills. Whether you're a recreational shooter, a self-defense enthusiast, or a law enforcement professional, our lineup of high-quality products will take your training to new heights. From the innovative Brass App Bundle that combines state-of-the-art technology with premium laser training cartridges, to the versatile 9mm Brass Beam for realistic dry fire training, and the convenient Brass Stand for stability during drills – we have everything you need to optimize your training sessions. Plus, don't miss out on our Shot Seekers, the ultimate reactive splatter targets that add a dynamic element to your marksmanship practice.
The Ultimate Training Kit for Precision and Performance
The Brass App Bundle is the epitome of excellence in firearms training. This all-inclusive kit combines the power of our cutting-edge Brass App with premium laser training cartridges, providing you with a comprehensive training platform right at your fingertips. The Brass App Bundle allows you to engage in real-time drills, receive instant feedback, and track your progress with precision. Take advantage of a wide range of skill-building exercises and simulations, all while enjoying the convenience of practicing in your own space. Whether you're a beginner or an experienced shooter, the Brass App Bundle will revolutionize your training experience and propel you toward mastery. Elevate your marksmanship game with the Brass App Bundle today.
GET YOUR BUNDLE
Realistic Dry Fire Practice, Anytime, Anywhere
Introducing the Brass Beam, your go-to tool for realistic and convenient dry fire training. Designed to fit your 9mm firearm, the Brass Beam converts your pistol into a dynamic training tool, enabling you to practice your shooting fundamentals without the need for live ammunition. By leveraging Brass App's advanced technology, you can receive real-time feedback on your trigger control, sight alignment, and more. Enhance your muscle memory, refine your shooting technique, and improve your reaction time – all from the comfort of your home. The Brass Beam is an indispensable partner for mastering dry fire practice and refining your skills.
GET YOUR BRASS BEAM
Secure Your Device for Seamless Training Sessions
The Brass Stand is your solution to a stable and secure training setup. with durability and ease of use in mind, this quadpod stand firmly holds your smart device during training sessions. Whether you're using the Brass App for real-time drills or video analysis, the Brass Stand ensures your device stays in place, providing uninterrupted access to the app's features. With adjustable height and sturdy construction, you can customize your training setup to your preferred position and maximize your practice efficiency. Elevate your training sessions with the Brass Stand, and enjoy a hassle-free experience every time you step onto the range.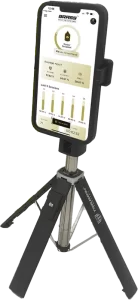 Interactive Reactive Targets for Dynamic Training
Shot Seekers are the ultimate reactive splatter targets that take your marksmanship practice to a whole new level. Shot Seekers are designed to provide instant visual feedback, turning every hit into an engaging and rewarding experience. Whether you're honing your accuracy, practicing target transitions, or simulating real-world shooting scenarios, Shot Seekers deliver an interactive and dynamic training environment. These targets come in various shapes and sizes, catering to different training needs and skill levels. Enhance your shooting sessions with Shot Seekers and enjoy the thrill of reactive shooting challenges and motivate you to reach new heights.
SHOP SHOT SEEKERS