Welcome to Brass
Revolutionizing Firearms Training for Peak Performance and Precision
"Unlike some other apps, this one doesn't require any specialized or color-specific targets, and it's compatible with any laser dry firing device. Its target library features Triumph Systems round bullseye targets, but you can set up arrays using any round bullseye targets and calibrate the app for them. There are many different drills you can run with the app, and each has its own instructional video. Additionally, you can remotely restart a drill after running it by simply firing your laser onto the target again." – Tyler Freel, Staff Writer
avaiLabLe NOw
Download for iOS & Android
Features 1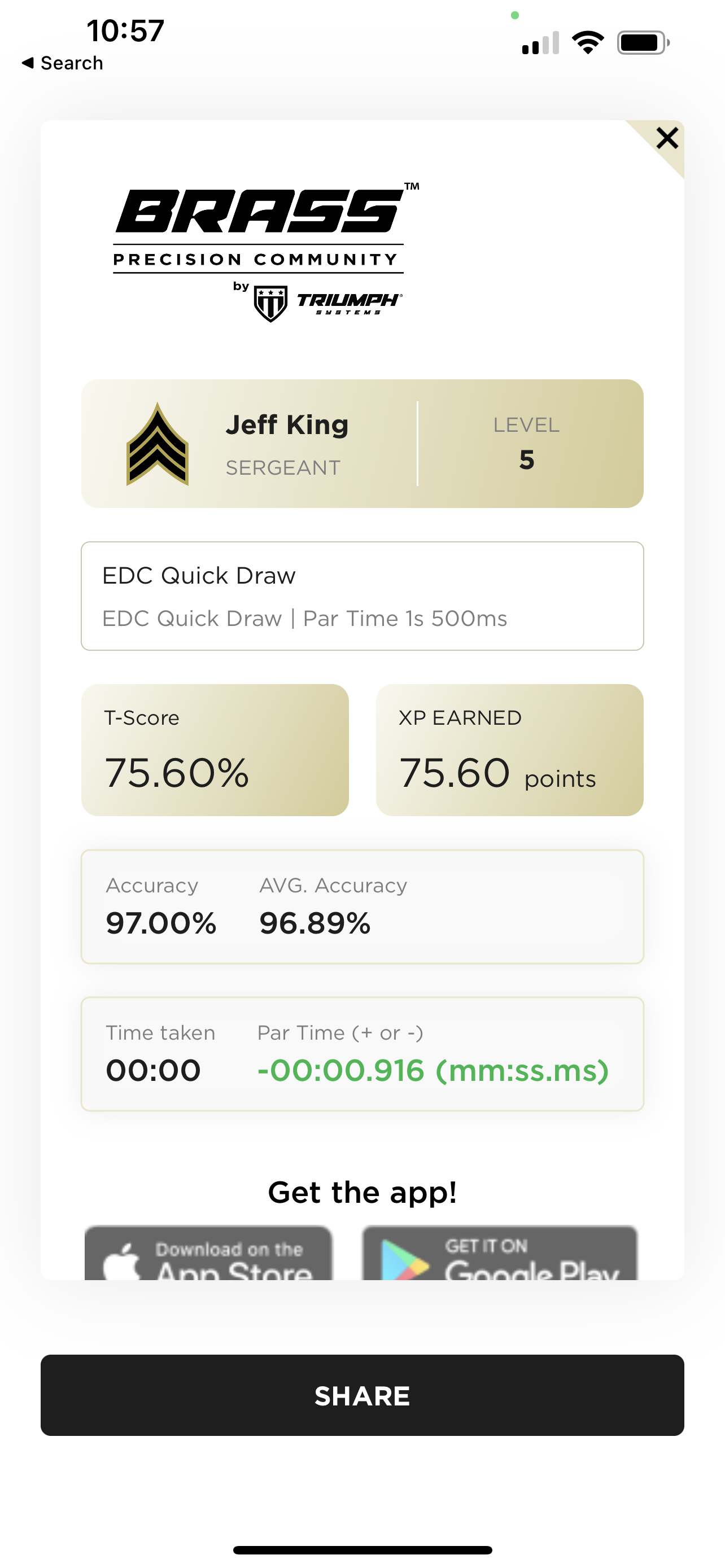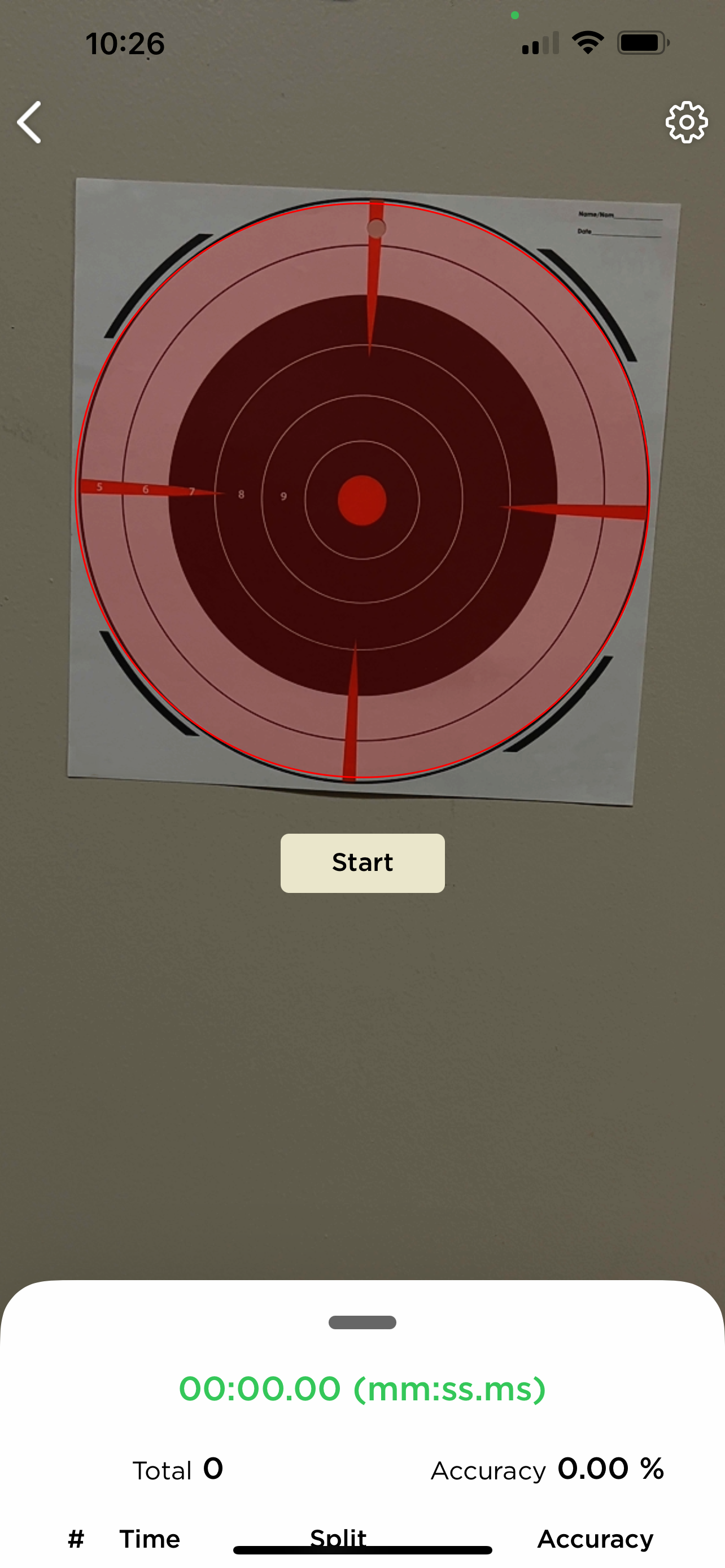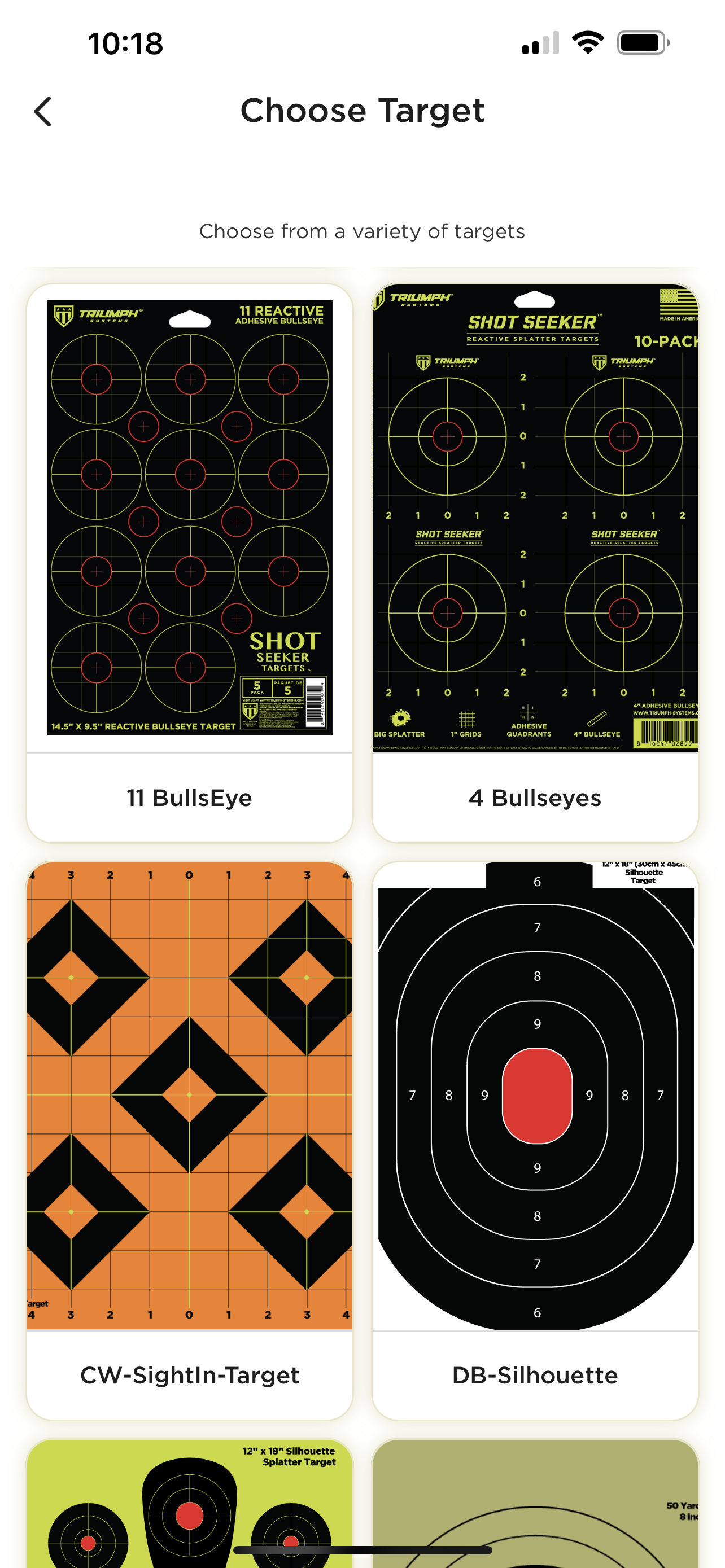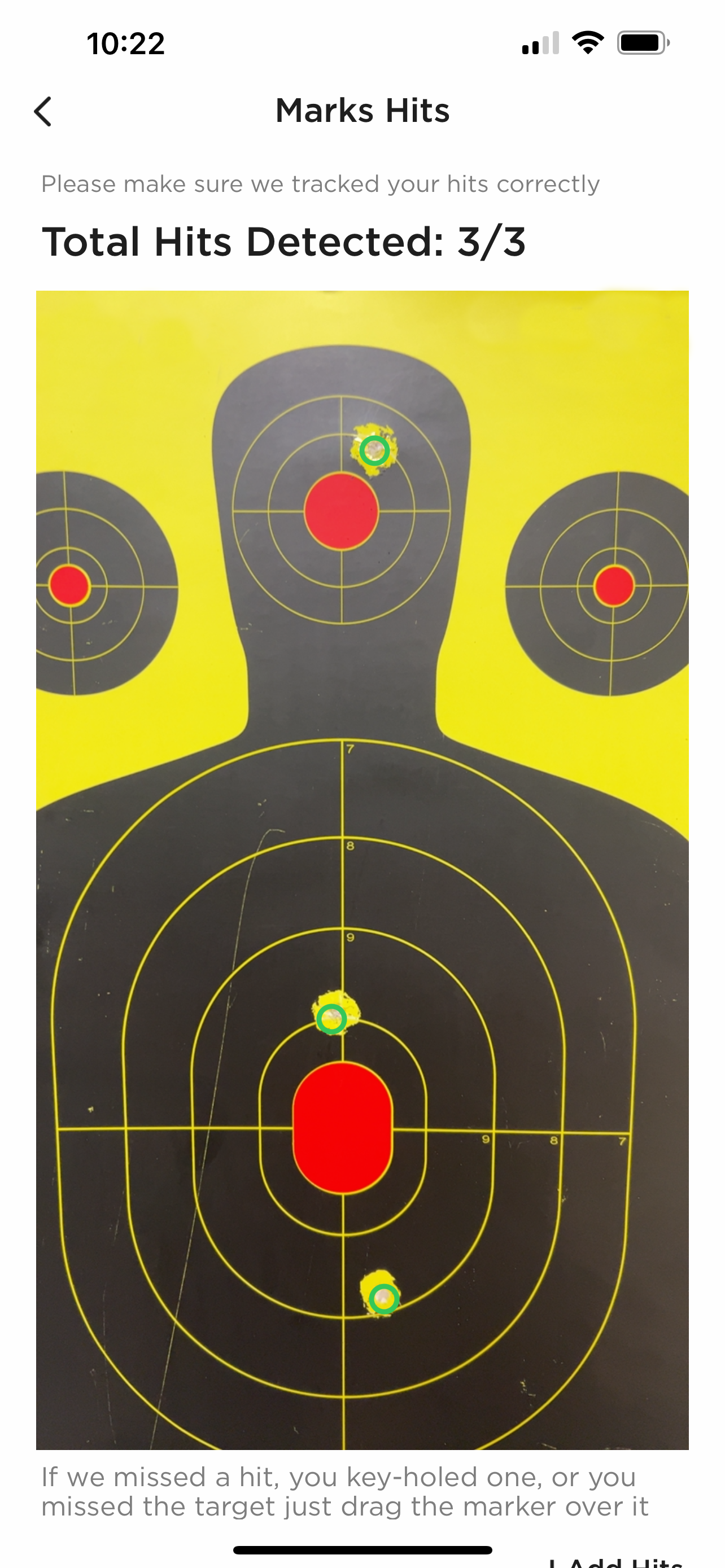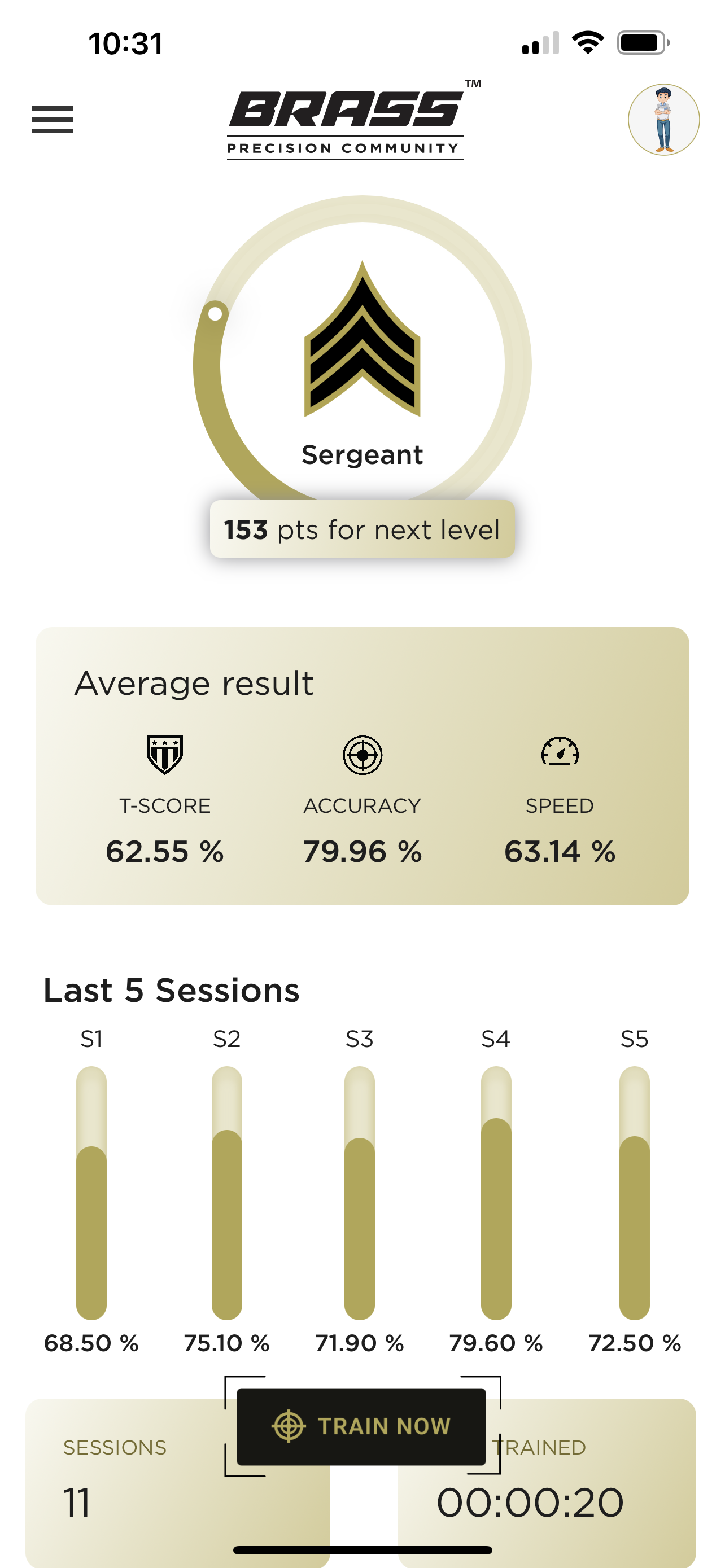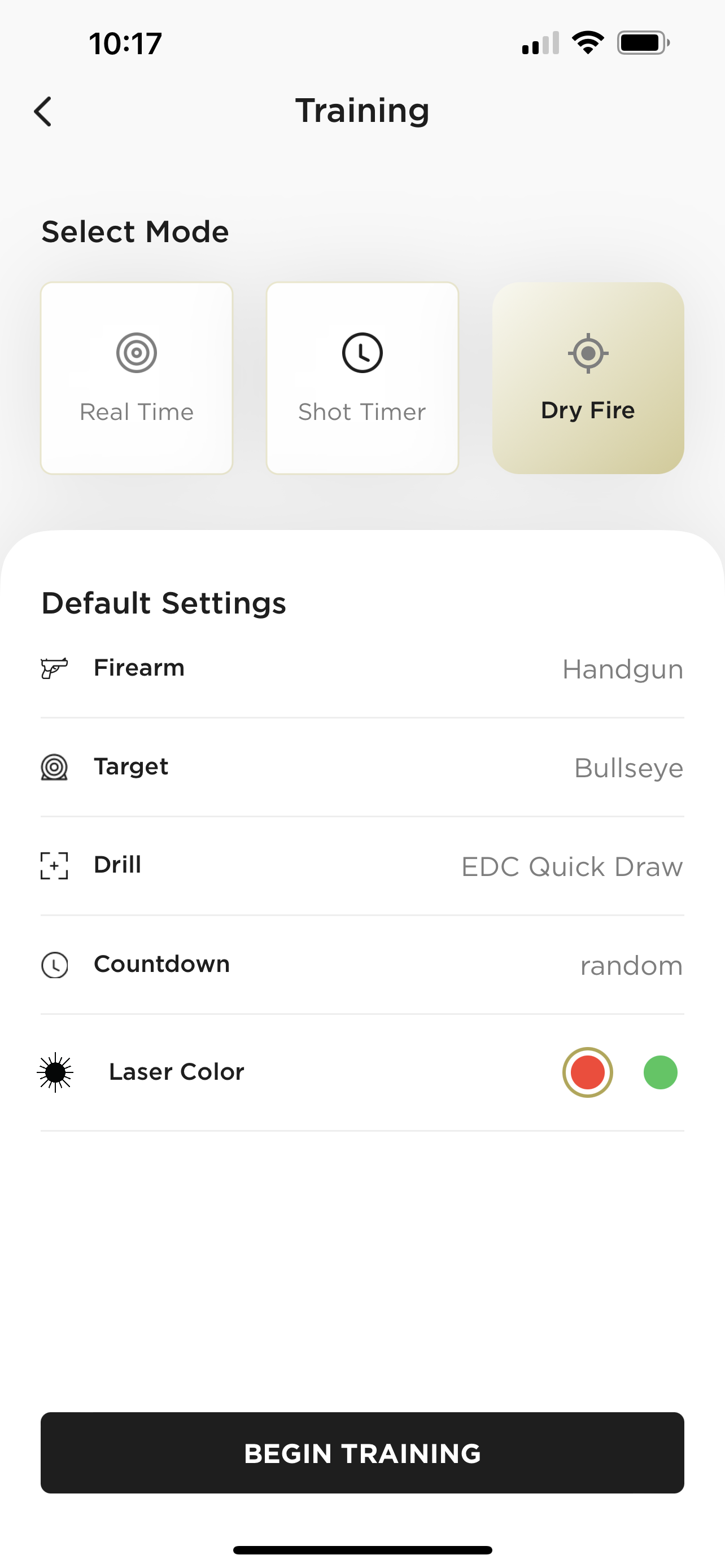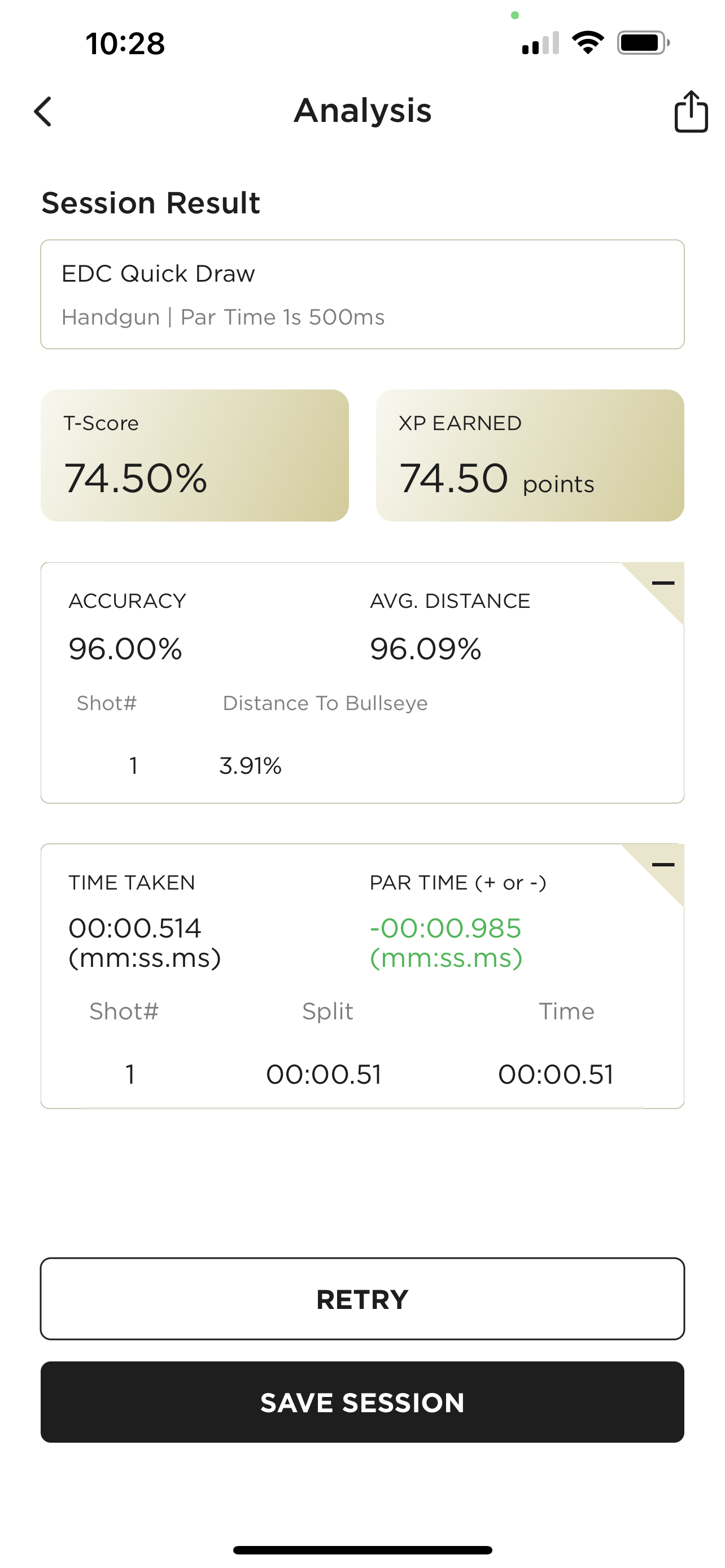 COMPETE & SHARE
Compete and impress your friends
USE ANY BULLSEYE TARGET
Use with any bullseye target
Library of Targets
An extensive database of targets
Target Scanning
Scan target to easily score your drill
Measure Progress
Track performance over time
Skill Building Drills
Drills designed to challenge your skills
EASY TO USE
Simple to set up and start training
OBJECTIVE SCORING
No more guessing, get an accurate score
all in One training Companion
Hero 2 items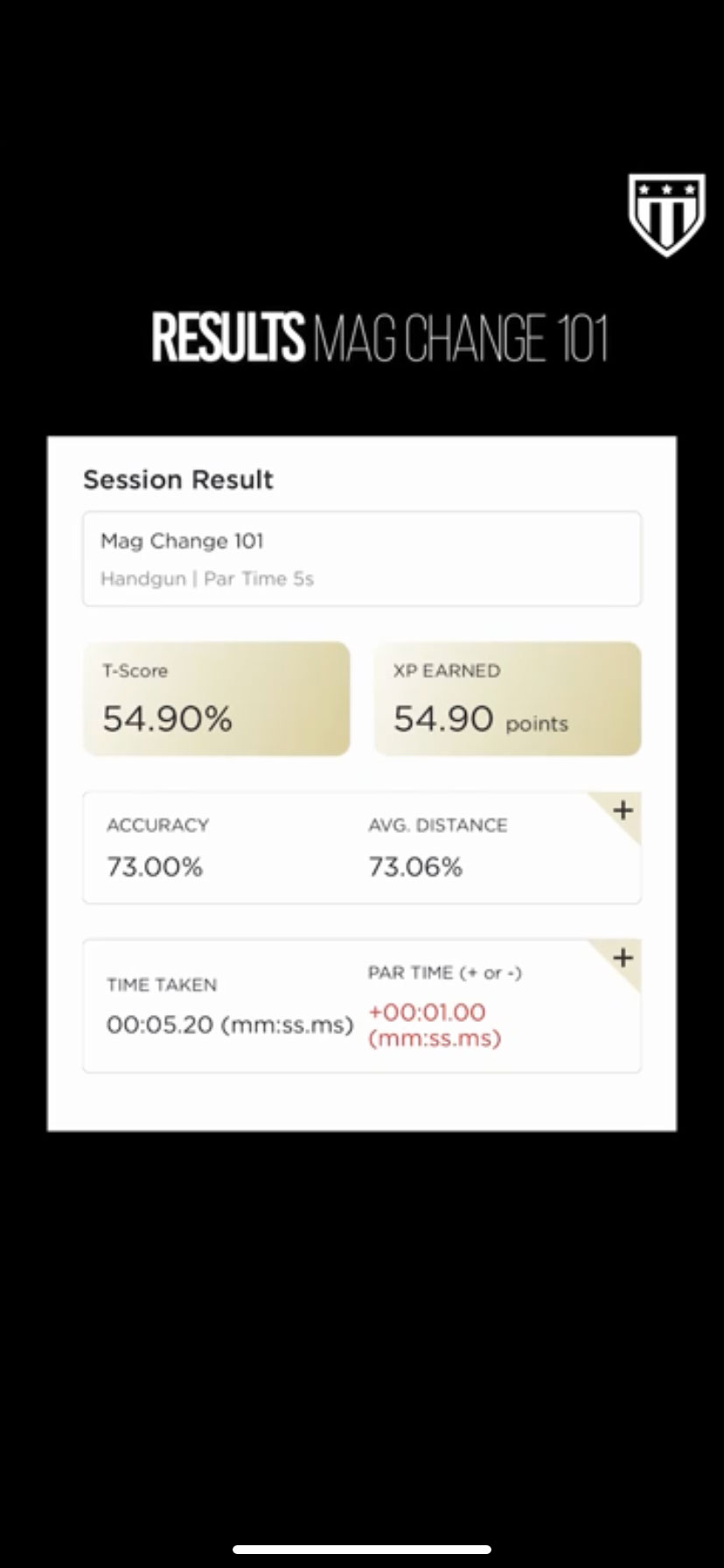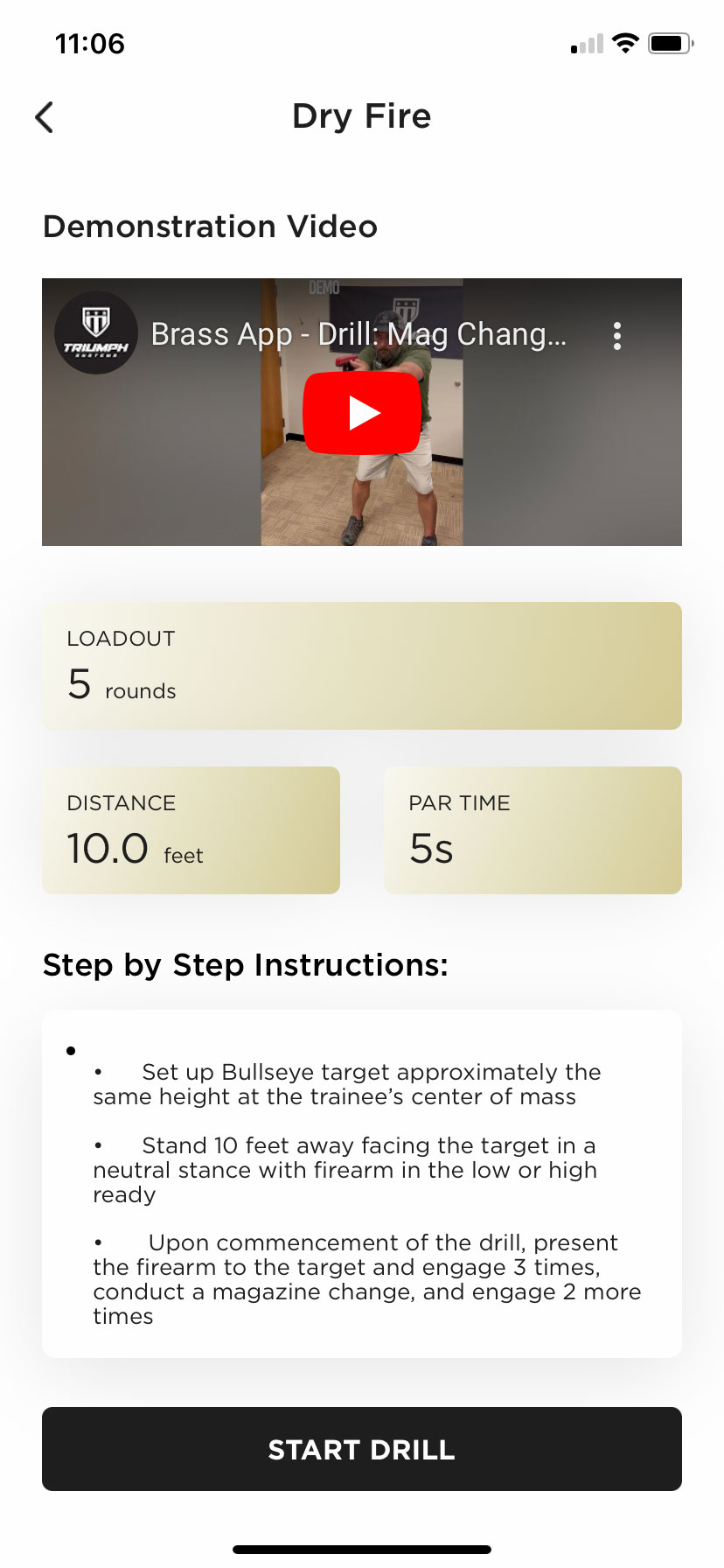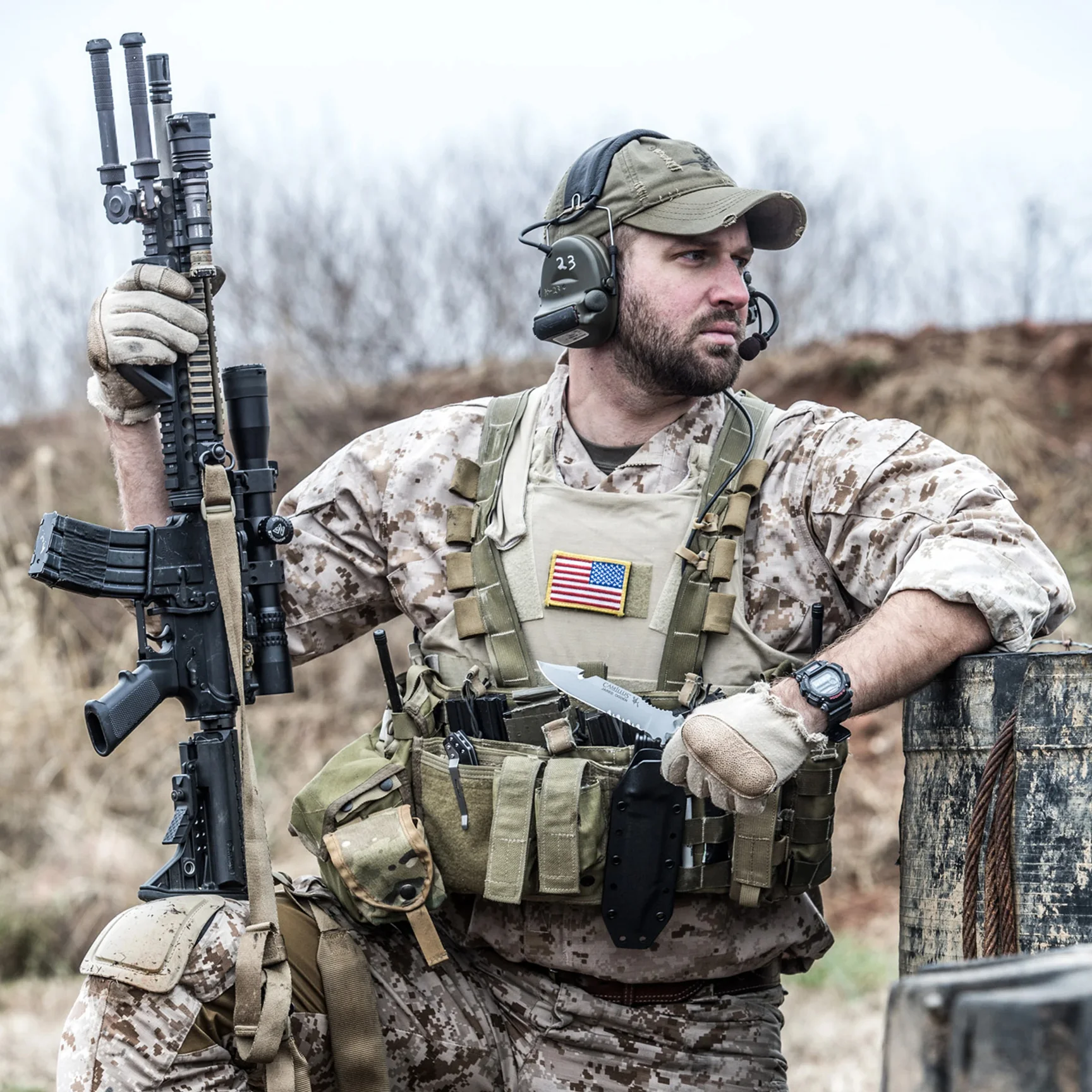 developed by a former navy seal in collaboration with diverse expert instructors
Meet Jared Ogden, our CEO and former Navy SEAL, whose invaluable expertise has shaped every aspect of Brass and the full Triumph Training System. His experience in training methodologies in both tactical precision and real-world practicality is incorporated into every training module and course. Welcome to a new era of training excellence.
With the laser bullet, and the simplicity of the app, this was an excellent training experience! I was able to get great, instant, feedback consistently. All without having to fire a single live round! So, cost effective as well. The ranking system is also fun to be able to use to compete against friends that also have the app. Would highly recommend to anyone looking to increase their firearm proficiency. 11/10 stars!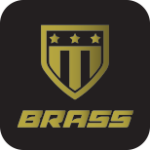 Fun and easy to use!
LStein95
Wow!! This product is an absolute game changer for firearms training. Everything was super easy to set up, understand and start using. To be able to work on shooting mechanics and form at home, without the expensive ammunition costs is incredibly exciting. Highly recommend this system to any shooting enthusiasts!
Will be buying more as Christmas gifts!!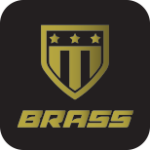 I'm extremely happy with this product. It is such a great tool to have at home to practice with. Having such a busy schedule and not being able to go to the range all the time and with the elevated prices of ammo this is a huge help!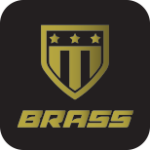 Great Product!
Online Customer
Check out our fun instructional videos such as Hide and Seek, Turn and Burn, and Crawl, Walk, But Don't Run.
Save the playlist and stay tuned for even more videos on the way!
See Drills
GettiNG StaRted
SteP ONe
DOWNLOAD
Start your journey to peak shooting performance by downloading Brass App. Available for iOS and coming soon to Android devices, our app seamlessly integrates into your training routine. Get ready to unlock a new level of precision and skill.
SteP twO
SET UP
Setting up Brass App is quick and easy. Use any laser cartridge with your firearm and secure your smartphone or tablet. Select your desired training mode, whether it's Live Fire, Dry Fire, or Shot Clock, and you're ready to go. Our intuitive interface ensures a hassle-free setup, allowing you to focus on what matters most—your training.
SteP thRee
TRAIN
Engage in dynamic training sessions tailored to your goals. Follow the instructions for your chosen mode, whether it's practicing real-time drills, perfecting your dry fire technique, or challenging yourself with the Shot Clock. Each session is designed to maximize your shooting skills and elevate your performance.
SteP FOUR
ANALYZE
After each drill, experience the power of real-time analysis. Our advanced T-Score algorithm will provide instant feedback. Evaluate your accuracy, precision, speed, and time to pinpoint areas for improvement. This data-driven insight empowers you to refine your skills and track your progress over time.
GETTING STARTED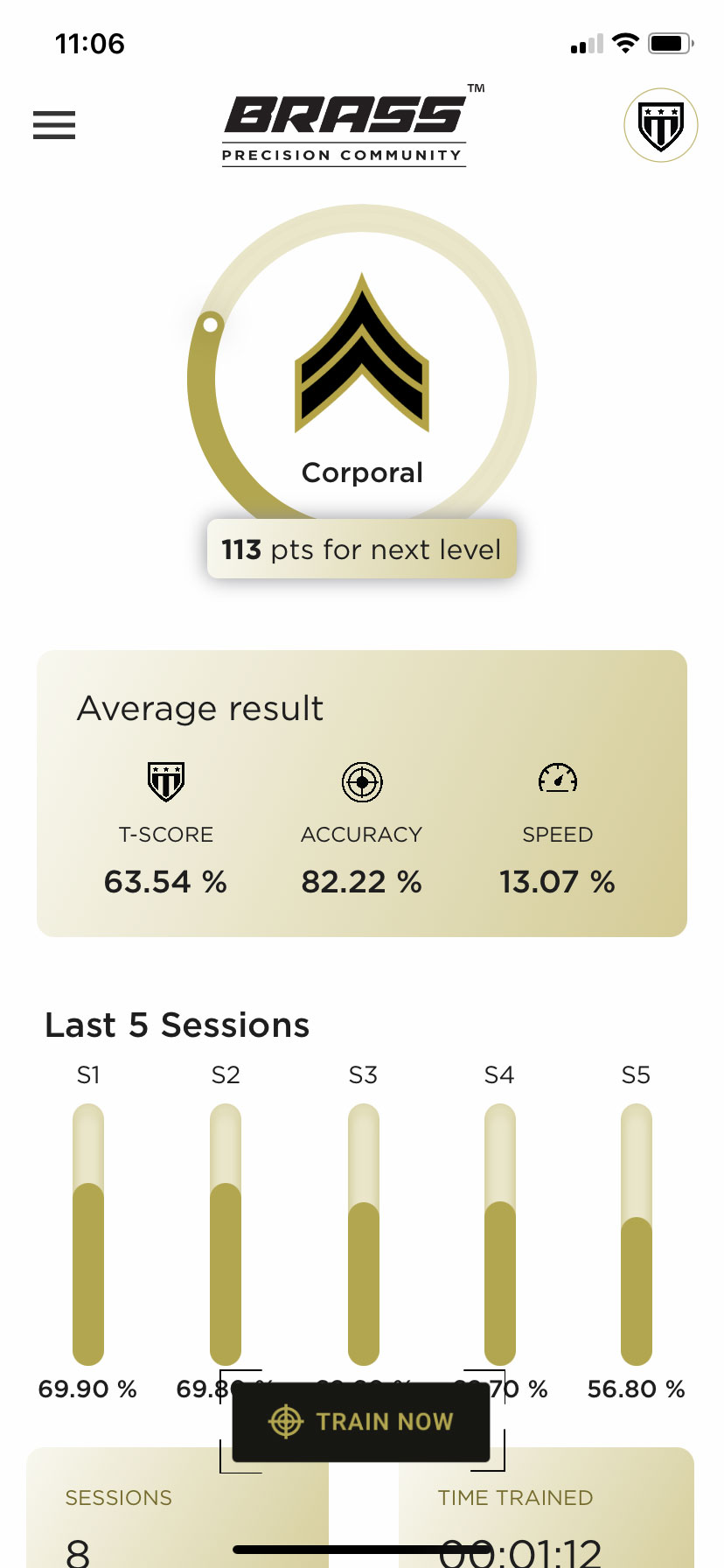 Discover the power of dry fire training in improving accuracy, developing muscle memory, and saving on ammunition costs. Learn the basics, explore advanced techniques, and incorporate dry fire training into your practice routine. Unlock your shooting potential with Triumph Systems.